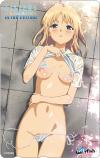 SISTERS~夏の最後の日~ Ultra Edition
Far away from the hustle and bustle of the city lies a small rural town in a mountainous region. A young man meets a pair of beautiful sisters there along with their mother, and lives together with them. Their days together are full of happiness, but he didn't know that there is a hidden secret.
If you like it, please consider supporting the developers/creators.
Don't forget to read FAQ page if you got any errors.
Become our Tentacle Master to bypass all the image hosting and view all the images directly from our VIP gallery blog.
You can also download all images in 1 click!